The relationship between the Department of Informatics UII and the Computer Science Division of RMUTT is getting stronger. Last Wednesday, September 11, the Memorandum of Agreement (MoA) was signed by the Dean of the Faculty of Science and Technology of the RMUTT Thailand, and was later also signed by the Dean of FTI UII in Yogyakarta. This MoA provides an opportunity for both parties to exchange student programs, visiting lecturers, joint research, or joint conferences.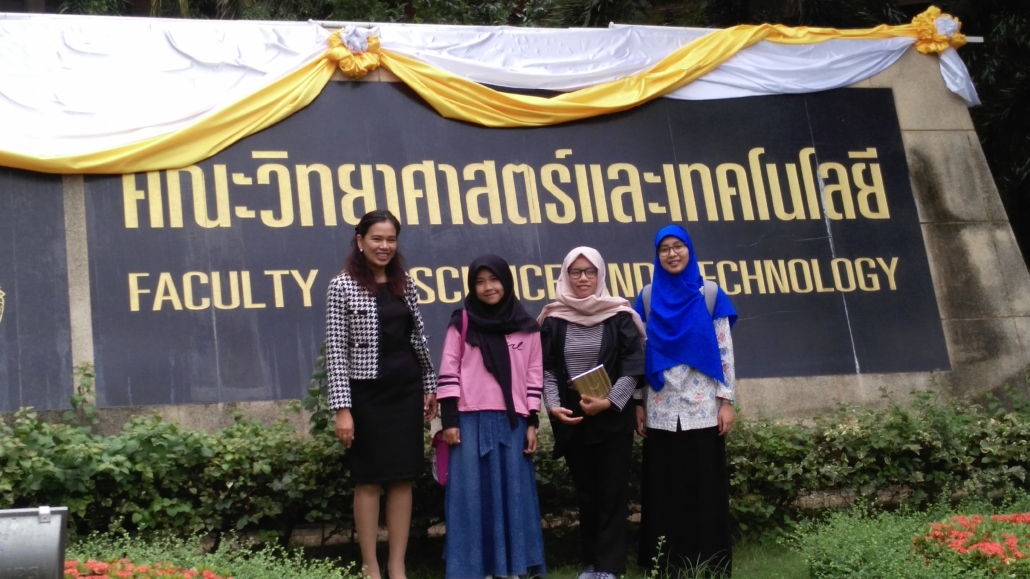 The visit to Thailand was also to escort Ms. Dwitiya and Ms. Fira as exchange students at RMUTT. Both of them are the students of Department Informatics (Year 2016) who are currently taking the Research Track as their last year study track. Last semester, they have compiled a thesis proposal about face detection (Dwitiya) and a decision support system (Fira). They will complete their final project in RMUTT for the next 3 months.
Ms. Fayruz  was given the opportunity to deliver a Guest Lecture on IoT Security to third-year students of Computer Science in RMUTT. The participants were enthusiastic in attending this short lecture, as seen from several students who were eager to try to answer the miniquiz at the end of the presentation.
---
Alhamdulillah, kerja sama antara Jurusan Informatika UII dan Divisi Ilmu Komputer RMUTT semakin erat. Rabu 11 September lalu, telah dilakukan serah terima berkas Memorandum of Agreement (MoA) yang ditandatangani oleh the Dean of Faculty of Science and Technology RMUTT Thailand, untuk kemudian ditandatangani pula oleh Dekan FTI UII di Jogja. MoA ini memberikan kesempatan kepada kedua belah pihak untuk program exchange students, visiting lecturer, joint research, ataupun joint conference.
Selain untuk keperluan MoA, kunjungan ke Thailand ini juga dalam rangka mengantar mbak Dwitiya dan mbak Fira, sebagai exchange student di RMUTT. Keduanya merupakan mahasiswi Program Studi Informatika – Program Sarjana – FTI UII Angkatan 2016 yang mengambil Jalur Penelitian. Semester lalu, mereka telah menyusun proposal skripsi tentang face detection (Dwitiya) dan decision support system (Fira). Rencananya, mereka akan menyelesaikan proyek tugas akhir mereka di RMUTT selama 3 bulan ke depan. 
Bu Fayruz yang membersamai keberangkatan ke Thailand diberi kesempatan untuk menyampaikan Guest Lecture tentang IoT Security kepada mahasiswa tahun ketiga Computer Science. Peserta antusias mengikuti kuliah singkat ini, terlihat dari beberapa mahasiswa yang semangat berusaha menjawab miniquiz di akhir presentasi.
https://informatics.uii.ac.id/wp-content/uploads/2019/11/IMG_20190911_092614-scaled.jpg
1440
2560
informatika
https://informatics.uii.ac.id/wp-content/uploads/2019/01/PhotoGrid_1548126470947-Copy-300x104.png
informatika
2019-09-18 20:05:28
2019-11-24 20:37:08
Strengthening the Partnership between UII and RMUTT